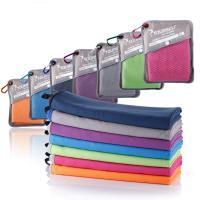 Super absorbent sports towel microfiber mini towel Syourself
$9.99
Purchased set for recent backpacking trip. Thrilled with this Microfiber mini towel. Very absorbent, lightweight, feels good, Microfiber mini towel washes nicely. Highly recommend this Microfiber mini towel for any traveler or gym workout.
I use this as my every day hair towel.It works quite well. When I wash my hair and sleep in the towel, it is far less bulky and secures better than a terry cloth towel.It is less abrasive on my hair so fewer frizzes.I cannot attest to how well it works on quick dry. I hang it up and leave for the day.... it's dry when I go to use it next but that's a minimum of 24 hours later. Anything should be dry in that time! Other reviewers will have to attest to how fast it dries.
I was delighted to see these on a lightening deal! My son recently visited several countries in Europe for about 10 days staying mostly in hostels without bringing any towel. He and his friend dried themselves off with their clothes which sounds awkward. He's leaving at the end of this month for another extended stay in South America, up to a year or more and was quite happy when I told him I found this item and ordered it specifically for him to travel with. It showed up on "Today's Deals" twice so I bought the large size twice in 2 different darker colors. They were less than $11 apiece and will be of tremendous value to him wherever he goes. I like the compact size when folded in the little bundle. Now he'll have 2 to travel with and no more using his clothes as a towel!

Your cart is currently empty.