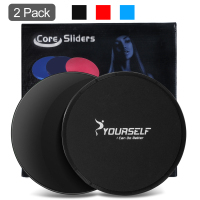 Gym foot sliders core sliders exercise equipment Syourself
$6.99
Perfect! Gym foot sliders like the description and same as the Images! Love the color and works in slippery and non slippery floor! I recommend it, Gym foot sliders!!
Gym foot sliders work great for the Piyo slide workout. Slide easily on carpet. Up your workout to a crazy intensity at a fraction of the cost of the Beachbody slides! I like Gym foot sliders
I ordered these sliders for a new workout program I'm starting, 80 day obsession. I've only used them on carpet, but so far they work pretty well! They're a little hard to move at times I think because of the weight of them, so you do have to press your foot down into it to keep your foot on the pad and move it at the same time. But they get the job done! Better than paying $50 for them in a bundle of other crap I don't need...
Nice product. A good workout at home.Tough balance--needs the right carpet (pile, material) to slide smoothly, and likewise the soft side down on wood flooring is not as speedy smooth if another material (like Terri cloth or microfiber). Trade off would be less durable. I'm 165 lbs and my bare feet may occasionally slide off (if the friction below overcomes my force on the disc).That may be my issue--may need to wear shoes with traction to help.Otherwise a great, compact fitness tool for the bag. (PS get the hand wheel for abs as well!)

Your cart is currently empty.